We remember Gene Oliver (1935-2007)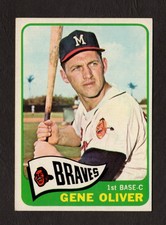 We remember Gene Oliver who was born in Moline, Illinois, on this day in 1935.    He died in 2007.

Gene broke with the Cardinals in 1959.   He was traded to the Braves in 1962 and that's where he enjoyed his best seasons:   .251 average, 56 HR, 184 RBI in 403 games.    He hit .270 plus 21 HR with the '65 Braves.

Oliver retired a few years before the DH came into effect in the AL.   Wonder how many more at-bats & HRs he would have had under the DH rule?   He was the perfect profile for a DH!